We've mentioned before here, cannabis enthusiasts love walking! And those marijuana fans all love dogs. But where are the best stoner dog walks around South Africa?
Well, lucky for you, the Zootly crew are a part of this demographic of animal lovers. So, we know these walks because we've done them.
Just for the record, Lion's Head isn't the greatest for less-agile hounds. Like my dog, Kenny (the dog in the image above). The most majestic creature to have ever walked this planet!

Andrew Macfarlane, writer of this blog and owner of Kenny.
Anyway! Grab your poop bags, your travel Zootly bag, and let's talk walks!
Cape Town Stoner Dog Walks
Newlands Forest
It is one of the best dog walks in the surrounding areas of the Mother City.
With loads of trails, sneaky side paths to explore, and river crossings for the fur babies to dive into, owners can easily just relax.
There's no need to panic, you can also just take it all in, find a nice little spot for you and your hound, and enjoy the toke of your PAX 3.
You could honestly spend the entire day tucked under the canopy of trees.
Alphen Trail
Situated in the plush suburb of Constantia, the Alphen Trail is linked to Cecilia Forest by multiple green belts.
From large rolling lawns to winding river paths and densely forested areas, it's fantastic for dogs. If your hound is a bit of a menace around horses, it might be wise to take them to Newlands Forest instead.
Or you could try and chill them out with Zootly Pet CBD, which comes in roast chicken flavour.
Johannesburg Stoner Dog Walks
The Wilds Nature Reserve, Houghton
This 16 hectare conservation area is bang in the middle of the upmarket suburb of Houghton.
A hilly walk, it offers amazing winding walkways, loads of open grass patches, not to mention a fantastic view into the center of Johannesburg.
For those who are a bit skeptical of venturing to this old reserve, the City has done a lot of work to bring the old neglected park back to its former glory.
Now, it's a perfect location to find a bench, let the doggo off, and enjoy a micro-session with the DaVinci MIQRO.
Walkhaven, Muldersdrift
When you dream of a dog paradise, you include yourself in the setting. At least I do!
This idea of mixing dog and human dream landscapes comes together at Walkhaven.
This play-land designed specifically for dogs offers 22 hectares of rolling grassland, two large dams surrounded by lush wetlands, and loads of shady trees!
And, because you need to be comfortable (yeah, you're a part of the dream destination), there are braai and picnic facilities placed throughout the park so you can be close to your best friend and have a tasty snack.
Also, there is a restaurant/pub/pizza takeaway. There's a lot going on at Walkhaven, we'd suggest you read up on the details on their website.
Maybe give them a solid follow on the social medias as well!
Durban Stoner Dog Walks
Salmon Bay Beach
Been around the whole country only to land up at South Africa's pristine sandy beaches in Ballito!
Salmon Bay Beach is unspoilt, and if you want to encourage your hound to surf, well, this beach offers consistent surfing conditions.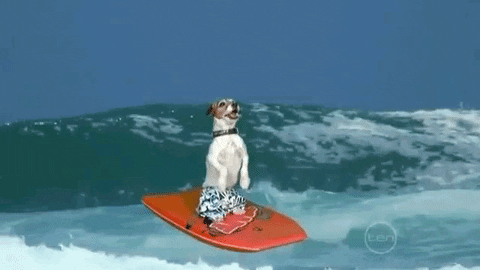 And if you get a little too much sun chilling on the beach for the day, make sure to stock up on Zootly's CBD Repair Cream.
Durban's Beachfront Promenade
It is officially the longest promenade in Sub-Saharan Africa, and your dog wants to walk along all 8 kilometres of it! Then, all the way back!
Yep, you can take it from Blue Lagoon to Durban Harbour!
This is literally the runway your fashionista hound has been looking for!
We'd suggest less of a ripping session, as it is bound to be busy, but a nice edible will soothe you into the vibe quickly!
Then again if you're doing this walk early in the morning, well, a wake and bake session is definitely in order.
And like that, our suggestions are over!
Let us know if there are any places you want us to review next time!
Words by: Andrew Macfarlane, writer, gardener, and dog owner.
z00tly says: "Not a fan of dogs, as I AM AN OWL! Sure, I'll pick up a small dog from time-to-time. But, no, not my vibe!"